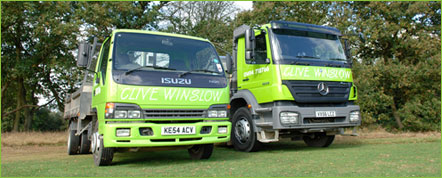 Clive Winslow Limited
was set up in 1988 to supply and deliver aggregate products to trade customers and the general public.
A highly respected provider within the industry, with a reputation for quality and reliability.


Clive
Winslow Limited
operates throughout the UK but mainly in the South-East of England.
It provides all types of products, from general building aggregates through to more specialised recycled, landscaping and decorative materials.
This established Company has a loyal customer base which includes prestigious heritage organisations, as well as a large number of local builders, tradesmen and specialist landscapers.

Customers with very precise requirements appreciate the Company's ability to fulfil the more unusual request. Colour-matching aggregates, sourcing rare materials and transporting abnormal loads, provide just some examples of the Company's diversity and flexibility.

One thing remains constant to all customers however. Regardless of whether they have fairly typical or very specific needs, they value the peace of mind that comes with each and every job; knowing that their order will be dealt efficiently, delivered on time and supplied as specified.